Location overview
Hobart Cres. is located in the Ottawa (Nepean) community of Trend-Arlington, which lies east of Cedarview Rd or Hwy 416 and west of Greenbank Rd. The neighbourhood is only accessible from Greenbank Rd south of Baseline Rd and north of Hunt Club West. View the vicinity and regional maps page to get an orientation.
The local directions – start here!
This page assumes you can drive to Greenbank Rd. and can proceed using either the Southbound or Northbound directions below. Otherwise use the more comprehensive route directions and maps at www.baldock.ca/hobart.

The directions below incorporate useful nearby land marking information that is not provided by other online map/direction sources. In any case, the usual driving directions between any specified address and Hobart Cres. are also available at maps.Google.ca.. Note that for addresses along Hobart, Google is off by as much as 100 meters.
Contact author of these directions by .
Greenbank Southbound from Queensway Hwy 417
Greenbank Northbound from Hunt Club West
Drive north (toward Queensway Hwy 417) from Hunt Club Rd. West

Pass the first traffic lights at Greenbank Square Shopping Plaza
Move into the left turn lane for the next intersection, which is signed for Bellman Dr (the sign itself is not easily in view) on the left and Bateman Dr on the right

Turn left onto Bellman Dr (You are about 0.6 km from Hunt Club)
At the end of Bellman Dr, turn right onto McClellan Rd
Turn at the fourth left onto Hobart Cr.
Locate the Hobart address #.

If the driveway is full, street parking is legal only on the odd numbered side

Returning directions through the neighbourhood from Hobart

Facing the street, from an even address turn left, from an odd address turn right
At the end of Hobart, turn right onto McClellan Rd.
At the second left turn onto Bellman Dr
At the traffic lights turn right (south) onto Greenbank Rd. (You are about 0.6 km from Hunt Club Rd West)
Pass the traffic lights at the Greenbank Square Shopping Plaza entry
At the next traffic lights for Hunt Club Rd. West, your choices are:

turn left (east) toward the airport
turn right (west) toward Hwy 416, or
go straight (south) toward Fallowfield Rd.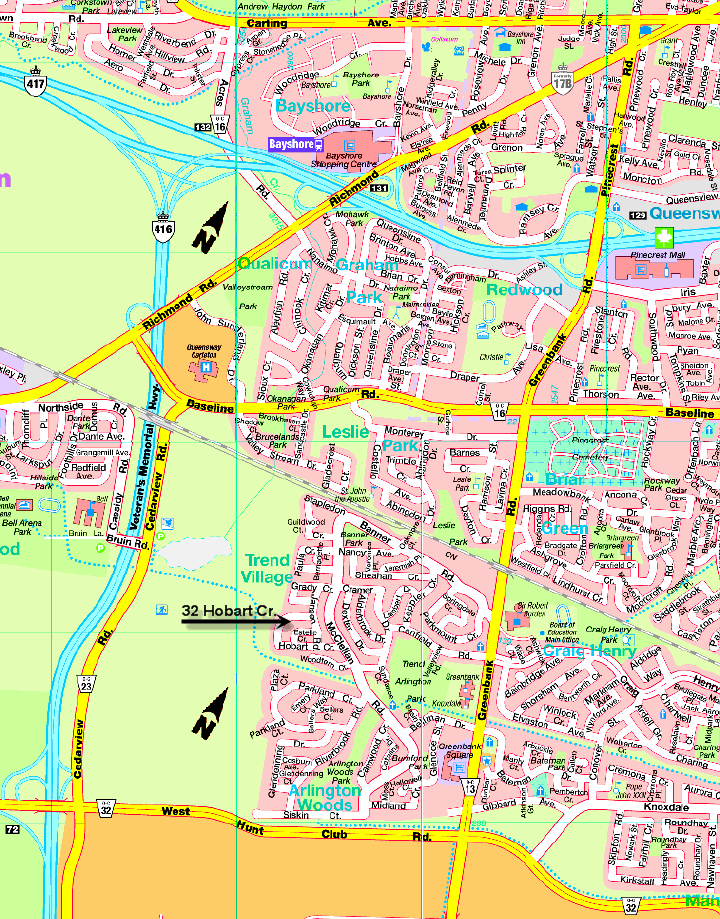 top